Funeral Urns and Treasure Chests Jeremiah 29:1, 4-7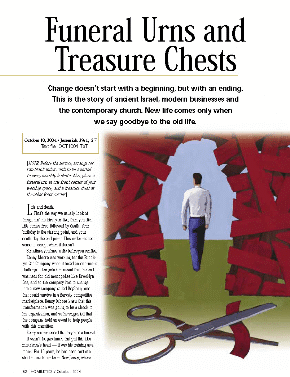 Change doesn't start with a beginning, but with an ending. This is the story of ancient Israel, modern businesses and the contemporary church. New life comes only when we say goodbye to the old life.
[NOTE: Before the service, arrange for two blank index cards to be inserted in every worship bulletin. Also, place a funeral urn at one front corner of your worship space, and a treasure chest at the other front corner.]

Life and death.

That's the way we usually look at things, isn't it? First you live, then you die. Life comes first, followed by death. Your birthday is the starting point, and your death-day the end point. This order makes sense ... except when it doesn't.

Sometimes you have to die before you can live.

Kenny Moore was working for the Brooklyn Gas Company when it faced an enormous challenge. Deregulation meant that the end was near for old monopolies like Brooklyn Gas, and so the company had to change into a new company called KeySpan, one that could survive in a fiercely competitive marketplace. Kenny Moore knew that this transformation was going to be a shock to his organization, and so he suggested that the company hold an event to help people with...
Start your risk free trial to view the entire installment!
START YOUR RISK-FREE TRIAL
---