Don't Drop In Luke 10:25-37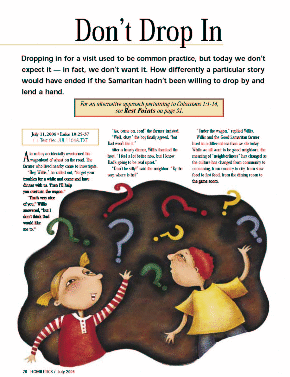 Dropping in for a visit used to be common practice, but today we don't expect it — in fact, we don't want it. How differently a particular story would have ended if the Samaritan hadn't been willing to drop by and lend a hand.
A farm boy accidentally overturned his wagonload of wheat on the road. The farmer who lived nearby came to investigate.

"Hey, Willis," he called out, "forget your troubles for a while and come and have dinner with us. Then I'll help you overturn the wagon."

"That's very nice of you," Willis answered, "but I don't think Dad would like me to."

"Aw, come on, son!" the farmer insisted.

"Well, okay," the boy finally agreed, "but Dad won't like it."

After a hearty dinner, Willis thanked the host. "I feel a lot better now, but I know Dad's going to be real upset."

"Don't be silly!" said the neighbor. "By the way, where is he?"

"Under the wagon," replied Willis.

Willis and the Good Samaritan farmer lived in a different era than we do today. While we all want to be good neighbors, the meaning of "neighborliness" has changed as the culture has changed from community to cocooning, from country to city, from slow food to fast food, from the dining room to the game room.

People don't drop by or drop in...
Start your risk free trial to view the entire installment!
START YOUR RISK-FREE TRIAL
---