What Not to Wear John 13:1-17, 31b-35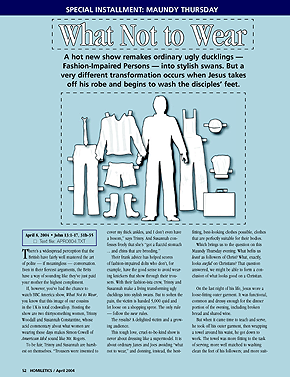 SPECIAL INSTALLMENT: MAUNDY THURSDAY

A hot new show remakes ordinary ugly ducklings — Fashion-Impaired Persons — into stylish swans. But a very different transformation occurs when Jesus takes off his robe and begins to wash the disciples' feet.
There's a widespread perception that the British have fairly well mastered the art of polite — if meaningless — conversation. Even in their fiercest arguments, the Brits have a way of sounding like they've just paid your mother the highest compliment.

If, however, you've had the chance to watch BBC America show, What Not to Wear, you know that this image of our cousins in the UK is total codswallop. Hosting the show are two thirtysomething women, Trinny Woodall and Susannah Constantine, whose acid commentary about what women are wearing these days makes Simon Cowell of American Idol sound like Mr. Rogers.

To be fair, Trinny and Susannah are harshest on themselves. "Trousers were invented to cover my thick ankles, and I don't even have a bosom," says Trinny. And Susannah confesses freely that she's "got a flaccid stomach ... and chins that are breeding."

Their frank advice has helped scores of fashion-impaired dolts who don't, for example, have the good sense to avoid wearing knickers...
Start your risk free trial to view the entire installment!
START YOUR RISK-FREE TRIAL
---