Palm Branches and Red Carpets Luke 19:28-40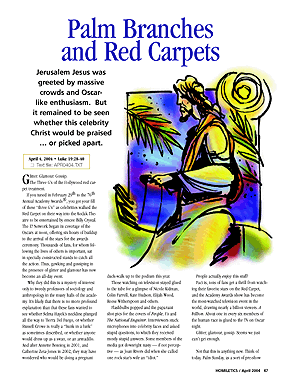 Jerusalem Jesus was greeted by massive crowds and Oscarlike enthusiasm. But it remained to be seen whether this celebrity Christ would be praised … or picked apart.
Glitter. Glamour. Gossip.

The Three G's of the Hollywood red carpet treatment.

If you tuned in February 29th to the 76th Annual Academy Awards®, you got your fill of these "three G's" as celebrities walked the Red Carpet on their way into the Kodak Theatre to be entertained by emcee Billy Crystal. The E! Network began its coverage of the Oscars at noon, offering six hours of buildup to the arrival of the stars for the awards ceremony. Thousands of fans, for whom following the lives of others is important, sat in specially constructed stands to catch all the action. Thus, gawking and gossiping in the presence of glitter and glamour has now become an all-day event.

Why they did this is a mystery of interest only to tweedy professors of sociology and anthropology in the musty halls of the academy. It's likely that there is no more profound explanation than that these fans wanted to see whether Selma Hayek's neckline plunged all the way to Tierra Del Fuego, or whether Russell Crowe is...
Start your risk free trial to view the entire installment!
START YOUR RISK-FREE TRIAL
---