The Divine Improv Philippians 3:17-4:1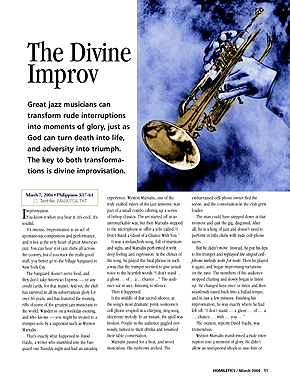 Great jazz musicians can transform rude interruptions into moments of glory, just as God can turn death into life, and adversity into triumph. The key to both transformations is divine improvisation.
Improvisation.

You know it when you hear it. It's cool. It's soulful.

It's intense. Improvisation is an act of spontaneous composition and performance, and it lies at the very heart of great American jazz. You can hear it in jazz clubs all across the country, but if you want the really good stuff, you better go to the Village Vanguard in New York City.

The Vanguard doesn't serve food, and they don't take American Express — or any credit cards, for that matter. And yet, the club has survived in all its subterranean glory for over 60 years, and has featured the rousing riffs of some of the greatest jazz musicians in the world. Wander in on a weekday evening, and who knows — you might be treated to a trumpet solo by a superstar such as Wynton Marsalis.

That's exactly what happened to David Hajdu, a writer who stumbled into the Vanguard one Tuesday night and had an amazing experience. Wynton Marsalis, one of the truly exalted rulers of the jazz universe, was part of a small combo offering up ...
Start your risk free trial to view the entire installment!
START YOUR RISK-FREE TRIAL
---