Snowballs Into the Fire Philippians 1:3-11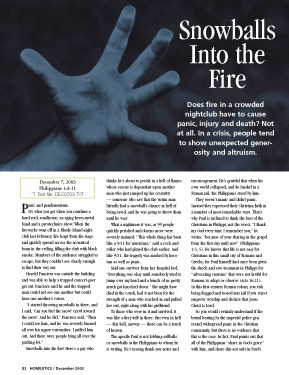 Does fire in a crowded nightclub have to cause panic, injury and death? Not at all. In a crisis, people tend to show unexpected generosity and altruism.
Panic and pandemonium.

It's what you get when you combine a hard-rock roadhouse, an aging heavy-metal band and a pyrotechnics show. When the fireworks went off in a Rhode Island nightclub last February, fire leapt from the stage and quickly spread across the acoustical foam in the ceiling, filling the club with black smoke. Members of the audience struggled to escape, but they couldn't see clearly enough to find their way out.

Harold Panciera was outside the building and was able to help a trapped concert-goer get out. Panciera said he and the trapped man could not see one another but could hear one another's voices.

"I started throwing snowballs in there, and I said, 'Can you feel the snow? Crawl toward the snow.' And he did," Panciera said. "Then I could see him, and he was severely burned all over his upper extremities. I pulled him out. And there were people lying all over the parking lot."

Snowballs into the fire! Here's a guy who thinks he's about to perish in a hell of flames...
Start your risk free trial to view the entire installment!
START YOUR RISK-FREE TRIAL
---