Baby-sitting Blues 1 Thessalonians 3:9-13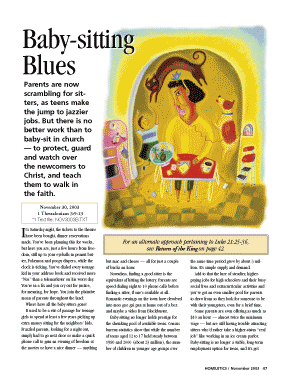 Parents are now scrambling for sitters, as teens make the jump to jazzier jobs. But there is no better work than to baby-sit in church — to protect, guard and watch over the newcomers to Christ, and teach them to walk in the faith.

For an alternate approach pertaining to Luke 21:25-36, see Return of the King.
It's Saturday night, the tickets to the theater have been bought, dinner reservations made. You've been planning this for weeks, but here you are, just a few hours from freedom, still up to your eyeballs in peanut butter, Pokemon and poopy diapers, while the clock is ticking. You've dialed every teenage kid in your address book and received more "Nos" than a telemarketer on his worst day. You're in a fix and you cry out for justice, for meaning, for hope. You join the plaintive moan of parents throughout the land:

Where have all the baby sitters gone?

It used to be a rite of passage for teenage girls to spend at least a few years picking up extra money sitting for the neighbors' kids. Frazzled parents, looking for a night out, simply had to go next door or make a quick phone call to gain an evening of freedom at the movies or have a nice dinner — anything but mac and cheese — all for just a couple of bucks an hour.

Nowadays, finding a good sitter is the equivalent of hitting the...
Start your risk free trial to view the entire installment!
START YOUR RISK-FREE TRIAL
---