Leper No. 10 Luke 17:11-19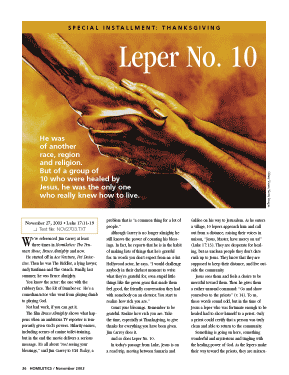 SPECIAL INSTALLMENT: Thanksgiving
He was of another race, region and religion. But of a group of 10 who were healed by Jesus, he was the only one who really knew how to live.
We've referenced Jim Carrey at least three times in Homiletics: The Truman Show, Bruce Almighty and now.

He started off in Ace Ventura, Pet Detective. Then he was The Riddler, a lying lawyer, Andy Kaufman and The Grinch. Finally, last summer, he was Bruce Almighty.

You know the actor: the one with the rubbery face. The ER of Dumber-er. He's a comedian/actor who went from playing dumb to playing God.

Not bad work, if you can get it.

The film Bruce Almighty shows what happens when an ambitious TV reporter is temporarily given God's powers. Hilarity ensues, including scenes of canine toilet-training, but in the end the movie delivers a serious message. It's all about "not seeing your blessings," said Jim Carrey to USA Today, a problem that is "a common thing for a lot of people."

Although Carrey is no longer almighty, he still knows the power of counting his blessings. In fact, he reports that he is in the habit of making lists of things that he's grateful for. In words you don't expect...
Start your risk free trial to view the entire installment!
START YOUR RISK-FREE TRIAL
---