The Odor Judge Mark 12:38 44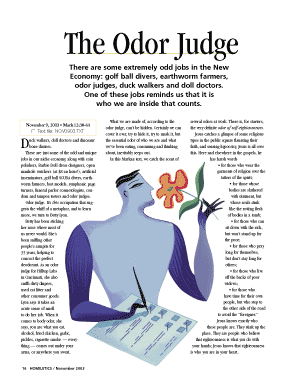 There are some extremely odd jobs in the New Economy: golf ball divers, earthworm farmers, odor judges, duck walkers and doll doctors.
One of these jobs reminds us that it is who we are inside that counts.

Duck walkers, doll doctors and dinosaur bone dusters.

These are just some of the odd and unique jobs in our niche economy, along with coin polishers, Barbie Doll dress designers, open manhole watchers (at $8 an hour!), artificial inseminators, golf ball SCUBA divers, earthworm farmers, foot models, symphonic page turners, funeral parlor cosmetologists, condom and tampon testers and odor judges.

Odor judge. It's this occupation that suggests the whiff of a metaphor, and to learn more, we turn to Betty Lyon.

Betty has been sticking her nose where most of us never would. She's been sniffing other people's armpits for 35 years, helping to concoct the perfect deodorant. As an odor judge for Hilltop Labs in Cincinnati, she also sniffs dirty diapers, used cat litter and other consumer goods. Lyon says it takes an acute sense of smell to do her job. When it comes to body odor, she says, you are what you eat. Alcohol, fried chicken, garlic, pickles, cigarette smoke — everything — comes out under...
Start your risk free trial to view the entire installment!
START YOUR RISK-FREE TRIAL
---