EZ-Pass Mark 10:35-45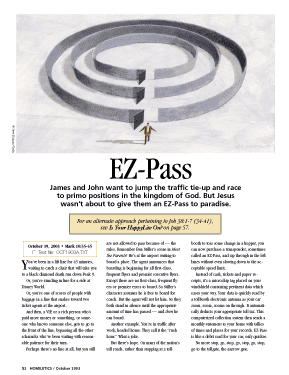 James and John want to jump the traffic tie-up and race to primo positions in the kingdom of God. But Jesus wasn't about to give them an EZ-Pass to paradise.

For an alternate approach pertaining to Job 38:1-7 (34-41), see Is Your HappyLite On?.
You've been in a lift line for 45 minutes, waiting to catch a chair that will take you to a black diamond death run down Peak 9.

Or, you're standing in line for a ride at Disney World.

Or, you're one of scores of people with baggage in a line that snakes toward two ticket agents at the airport.

And then, a VIP, or a rich person who's paid more money or something, or someone who knows someone else, gets to go to the front of the line, bypassing all the other schmucks who've been waiting with reasonable patience for their turn.

Perhaps there's no line at all, but you still are not allowed to pass because of — the rules. Remember Ben Stiller's scene in Meet the Parents? He's at the airport waiting to board a place. The agent announces that boarding is beginning for all first-class, frequent flyers and premier executive flyers. Except there are no first-class, frequent flyers or premier execs to board. So Stiller's character assumes he is free to board for coach. But the agent will not let...
Start your risk free trial to view the entire installment!
START YOUR RISK-FREE TRIAL
---