Job's Cold Shoulder Job 1:1; 2:1-10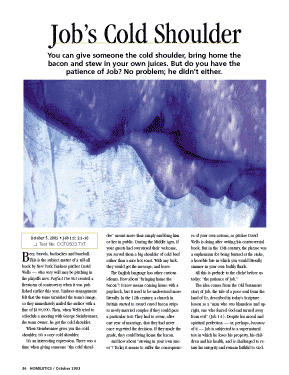 You can give someone the cold shoulder, bring home the bacon and stew in your own juices. But do you have the patience of Job? No problem; he didn't either.
Beer, brawls, backaches and baseball.

This is the subject matter of a tell-all book by New York Yankees pitcher David Wells — who very well may be pitching in the playoffs now. Perfect I'm Not created a firestorm of controversy when it was published earlier this year. Yankees management felt that the tome tarnished the team's image, so they immediately nailed the author with a fine of $100,000. Then, when Wells tried to schedule a meeting with George Steinbrenner, the team owner, he got the cold shoulder.

When Steinbrenner gives you the cold shoulder, it's a very cold shoulder.

It's an interesting expression. There was a time when giving someone "the cold shoulder" meant more than simply snubbing him or her in public. During the Middle Ages, if your guests had overstayed their welcome, you served them a big shoulder of cold beef rather than a nice hot roast. With any luck, they would get the message, and leave.

The English language has other curious idioms. How about "bringing home the...
Start your risk free trial to view the entire installment!
START YOUR RISK-FREE TRIAL
---