Nice Guy Conundrum Proverbs 22:1-2,8-9,22-23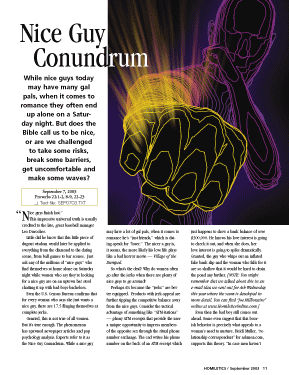 While nice guys today may have many gal pals, when it comes to romance they often end up alone on a Saturday night. But does the Bible call us to be nice, or are we challenged to take some risks, break some barriers, get uncomfortable and make some waves?
"Nice guys finish last."

This impressive universal truth is usually credited to the late, great baseball manager Leo Durocher.

Little did he know that this little piece of dugout wisdom would later be applied to everything from the diamond to the dating scene, from ball games to bar scenes. Just ask any of the millions of "nice guys" who find themselves at home alone on Saturday night while women who say they're looking for a nice guy are on an uptown bar stool chatting it up with bad-boys-bachelors.

Even the U.S. Census Bureau confirms that for every woman who says she just wants a nice guy, there are 17.5 flinging themselves at complete jerks.

Granted, this is not true of all women. But it's true enough. The phenomenon has spawned newspaper articles and pop psychology analysis. Experts refer to it as the Nice Guy Conundrum. While a nice guy may have a lot of gal pals, when it comes to romance he's "just friends," which is dating-speak for "loser." The nicer a guy is, it seems, the...
Start your risk free trial to view the entire installment!
START YOUR RISK-FREE TRIAL
---