Inherent Vice Mark 7:1-8, 14-15, 21-23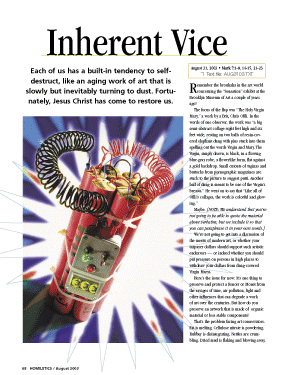 Each of us has a built-in tendency to self-destruct, like an aging work of art that is slowly but inevitably turning to dust. Fortunately, Jesus Christ has come to restore us.
Remember the brouhaha in the art world concerning the "Sensation" exhibit at the Brooklyn Museum of Art a couple of years ago?

The focus of the flap was "The Holy Virgin Mary," a work by a Brit, Chris Ofili. In the words of one observer, the work was "a big semi-abstract collage eight feet high and six feet wide, resting on two balls of resin-covered elephant dung with pins stuck into them spelling out the words Virgin and Mary. The Virgin, simply drawn, is black, in a flowing blue-gray robe, a flowerlike form, flat against a gold backdrop. Small cutouts of vaginas and buttocks from pornographic magazines are stuck to the picture to suggest putti. Another ball of dung is meant to be one of the Virgin's breasts." He went on to say that "Like all of Ofili's collages, the work is colorful and glowing."

Maybe. [NOTE: We understand that you're not going to be able to quote the material above verbatim, but we include it so that you can paraphrase it in your own words.]

We're not going to get ...
Start your risk free trial to view the entire installment!
START YOUR RISK-FREE TRIAL
---