Nit-picking Exodus 20:1-17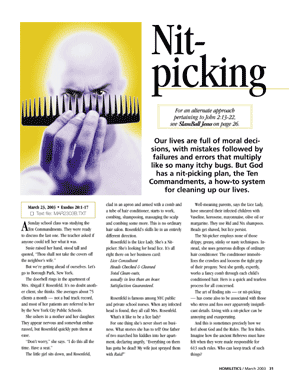 Our lives are full of moral decisions, with mistakes followed by failures and errors that multiply like so many itchy bugs. But God has a nit-picking plan, the Ten Commandments, a how-to system for cleaning up our lives.

For an alternate approach pertaining to John 2:13-22, see SlamBall Jesus on page 26.
A Sunday school class was studying the Ten Commandments. They were ready to discuss the last one. The teacher asked if anyone could tell her what it was.

Susie raised her hand, stood tall and quoted, "Thou shall not take the covers off the neighbor's wife."
But we're getting ahead of ourselves. Let's go to Borough Park, New York.

The doorbell rings in the apartment of Mrs. Abigail F. Rosenfeld. It's no doubt another client, she thinks. She averages about 75 clients a month — not a bad track record, and most of her patients are referred to her by the New York City Public Schools.

She ushers in a mother and her daughter. They appear nervous and somewhat embarrassed, but Rosenfeld quickly puts them at ease.

"Don't worry," she says. "I do this all the time. Have a seat."

The little girl sits down, and Rosenfeld, clad in an apron and armed with a comb and a tube of hair conditioner, starts to work, combing, shampooing, massaging the scalp and combing some more. This is no ordinary hair salon....
Start your risk free trial to view the entire installment!
START YOUR RISK-FREE TRIAL
---