Eye Gel in the Minibar Mark 1:14-20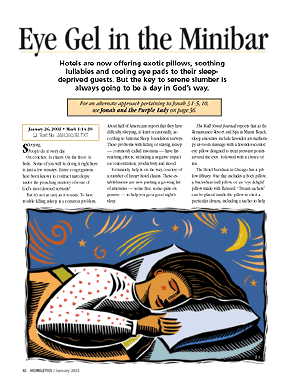 Hotels are now offering exotic pillows, soothing lullabies and cooling eye pads to their sleep-deprived guests. But the key to serene slumber is always going to be a day in God's way.
For an alternate approach pertaining to Jonah 3:1-5, 10, see Jonah and the Purple Lady on page 36.
Sleeping.

People do it every day.

On couches. In chairs. On the floor. In beds. Some of you will be doing it right here in just a few minutes. Entire congregations have been known to contract narcolepsy under
the preaching ministry of some of God's most devoted servants!

But it's not as easy as it sounds. To have trouble falling asleep is a common problem. About half of Americans report that they have difficulty sleeping, at least occasionally, according to National Sleep Foundation surveys. These problems with falling or staying asleep - commonly called insomnia - have far-reaching effects, including a negative impact on concentration, productivity and mood.

Fortunately, help is on the way, courtesy of a number of luxury hotel chains. These establishments are now pushing a growing list of amenities - some free, some quite expensive - to help you get a good night's sleep.

The Wall Street Journal reports that at the Renaissance Resort and Spa in Miami Beach, sleep amenities include...
Start your risk free trial to view the entire installment!
START YOUR RISK-FREE TRIAL
---