Jonah and the Purple Lady Jonah 3:1-5, 10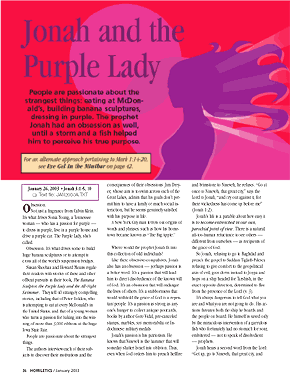 People are passionate about the strangest things: eating at McDonald's, building banana sculptures, dressing in purple. The prophet Jonah had an obsession as well, until a storm and a fish helped him to perceive his true purpose.
For an alternate approach pertaining to Mark 1:14-20, see Eye Gel in the Minibar on page 42.

Obsession.

Not just a fragrance from Calvin Klein. It's what drives Sonia Young, a Tennessee woman - who has a passion for purple - to dress in purple, live in a purple house and drive a purple car. The Purple Lady, she's called.

Obsession. It's what drives some to build huge banana sculptures or to attempt to cross all of the world's suspension bridges.

Susan Sheehan and Howard Means regale their readers with stories of these and other offbeat pursuits in their book, The Banana Sculptor, the Purple Lady and the All-Night Swimmer. They tell 40 strangely compelling stories, including that of Peter Holden, who is attempting to eat at every McDonald's in the United States, and that of a young woman who turns a passion for baking into the winning of more than 3,000 ribbons at the huge Iowa State Fair.

People are passionate about the strangest things.

The authors interview each of their subjects to discover their motivations and the consequences of their obsessions. Jim Dreyer, whose aim is ...
Start your risk free trial to view the entire installment!
START YOUR RISK-FREE TRIAL
---