If I Had Sneezed Psalm 139:1-6, 13-18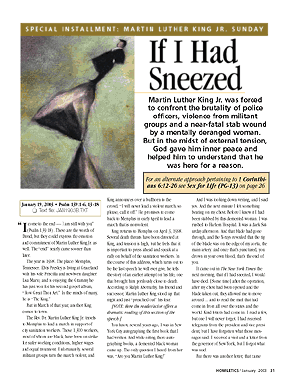 Martin Luther King Jr. was forced to confront the brutality of police officers, violence from militant groups and a near-fatal stab wound by a mentally deranged woman. But in the midst of external tension, God gave him inner peace and helped him to understand that he was here for a reason.
For an alternate approach pertaining to 1 Corinthians 6:12-20 see Sex for Life (PG-13) on page 26.

"I come to the end - I am still with you" (Psalm 139:18). These are the words of David, but they could express the emotion and commitment of Martin Luther King Jr. as well. The "end" nearly came sooner than later.

The year is 1968. The place: Memphis, Tennessee. Elvis Presley is living at Graceland with his wife Priscilla and newborn daughter Lisa Marie, and is enjoying the Grammy he has just won for his second gospel album, "How Great Thou Art." In the minds of many, he is "The King."

But in March of that year, another King comes to town.

The Rev. Dr. Martin Luther King Jr. travels to Memphis to lead a march in support of city sanitation workers. These 1,300 workers, most of whom are black, have been on strike for safer working conditions, higher wages and equal treatment. Unfortunately, several militant groups turn the march violent, and King announces over a bullhorn to the crowd, "I will never lead a violent march, so please, call it off." He promises to come back to Memphis in...
Start your risk free trial to view the entire installment!
START YOUR RISK-FREE TRIAL
---