Sex for Life 1 Corinthians 6:12-20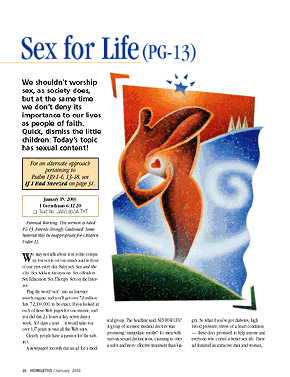 We shouldn't worship sex, as society does, but at the same time we don't deny its importance to our lives as people of faith. Quick, dismiss the little children: Today's topic has sexual content!
For an alternate approach pertaining to Psalm 139:1-6, 13-18, see If I Had Sneezed on page 31.
Parental Warning: This sermon is rated PG-13. Parents Strongly Cautioned. Some Material May Be Inappropriate for Children Under 13.

We may not talk about it in polite company, but sex is on our minds and in front of our eyes every day. Safer sex. Sex and the City. Sex Addicts Anonymous. Sex offenders. Sex Education. Sex Therapy. Sex on the Internet.

Plug the word "sex" into an Internet search engine, and you'll get over 72 million hits. 72,100,000, to be exact. If you looked at each of these Web pages for one minute, and you did this 24 hours a day, seven days a week, 365 days a year ... it would take you over 137 years to visit all the Web sites.

Clearly, people have a passion for the subject.

A newspaper recently ran an ad for a medical group. The headline said: SEX FOR LIFE! A group of licensed medical doctors was promising "immediate results" for men with various sexual dysfunctions, claiming to offer a safer and more effective treatment than Viagra. So what if you've got...
Start your risk free trial to view the entire installment!
START YOUR RISK-FREE TRIAL
---