The Oregon Project Mark 1:4-11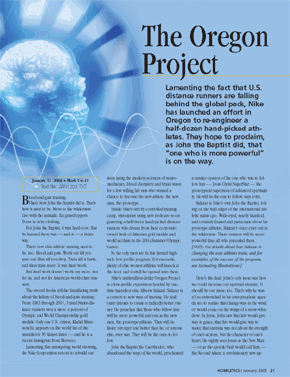 Lamenting the fact that U.S. distance runners are falling behind the global pack, Nike has launched an effort in Oregon to re-engineer a half-dozen hand-picked athletes. They hope to proclaim, as John the Baptist did, that "one who is more powerful" is on the way.
Blood-and-guts training.

That's how John the Baptist did it. That's how it used to be. Move to the wilderness. Live with the animals. Eat grasshoppers. Dress in itchy clothing.

For John the Baptist, it was hard-core. But he learned there was - and is - a better way.

That's how elite athletic training used to be, too. Blood and guts. Work out till you pass out. Run till you drop. Train till it hurts, and then train more. It was hard work.

But hard work doesn't work any more, not for us, and not for American world-class runners.

The record books tell the humiliating truth about the failure of blood-and-guts training: From 1983 through 2001, United States distance runners won a mere 4 percent of Olympic and World Championship gold medals. Only one U.S. citizen, Khalid Khannouchi, appears on the world list of the marathon's 50 fastest times - and he is a recent immigrant from Morocco.

Lamenting this uninspiring world showing, the Nike Corporation set out to rebuild our team using the...
Start your risk free trial to view the entire installment!
START YOUR RISK-FREE TRIAL
---