Jesus, Lewis, and Clark 1 Corinthians 9:24-27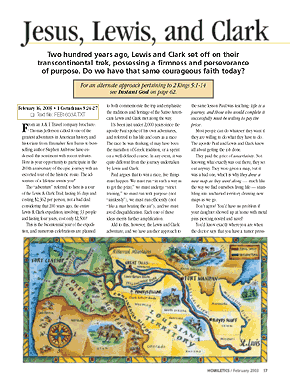 Two hundred years ago, Lewis and Clark set off on their transcontinental trek, possessing a firmness and perseverance of purpose. Do we have that same courageous faith today?
For an alternate approach pertaining to 2 Kings 5:1-14see Instant God on page 62.
From an A & E Travel company brochure: "Thomas Jefferson called it one of the greatest adventures in American history, and historians from filmmaker Ken Burns to bestselling author Stephen Ambrose have endorsed this sentiment with recent tributes. Here is your opportunity to participate in the 200th anniversary of the epic journey with an escorted tour of the historic route. The adventure of a lifetime awaits you!"

The "adventure" referred to here is a tour of the Lewis & Clark Trail, lasting 16 days and costing $2,362 per person, not a bad deal considering that 200 years ago, the entire Lewis & Clark expedition, involving 33 people and lasting four years, cost only $2,500! This is the bicentennial year of the expedition, and numerous celebrations are planned to both commemorate the trip and emphasize the traditions and heritage of the Native Americans Lewis and Clark met along the way.

It's been just under 2,000 years since the apostle Paul spoke of his own adventures, and referred...
Start your risk free trial to view the entire installment!
START YOUR RISK-FREE TRIAL
---