How to Fix the World Isaiah 61:1-4, 8-11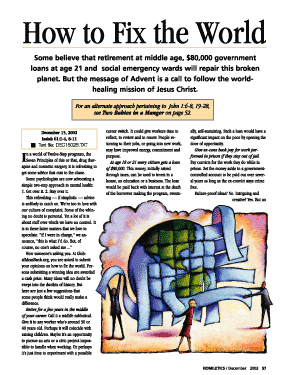 Some believe that retirement at middle age, $80,000 government loans at age 21 and social emergency wards will repair this broken planet. But the message of Advent is a call to follow the world-healing mission of Jesus Christ.

In a world of Twelve-Step programs, the Seven Principles of this or that, drug therapies and cosmetic surgery, it is refreshing to get some advice that cuts to the chase.

Some psychologists are now advocating a simple two-step approach to mental health:

1. Get over it. 2. Stay over it.

This refreshing - if simplistic - advice is unlikely to catch on. We're too in love with our culture of complaint. Some of the whining no doubt is personal. Yet a lot of it is about stuff over which we have no control. It is in these latter matters that we love to speculate. "If I were in charge," we announce, "this is what I'd do. But, of course, no one's asked me ..."

Now someone's asking you. At GlobalIdeasBank.org, you are asked to submit your opinions on how to fix the world. Persons submitting a winning idea are awarded a cash prize. Many ideas will no doubt be swept into the dustbin of history. But here are just a few suggestions that some people think would really make a difference.

Retire for a...
Start your risk free trial to view the entire installment!
START YOUR RISK-FREE TRIAL
---