Two Babes in a Manger John 1:6-8, 19-28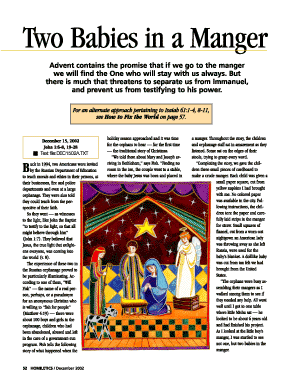 Advent contains the promise that if we go to the manger we will find the One who will stay with us always. But there is much that threatens to separate us from Immanuel, and prevent us from testifying to his power.

Back in 1994, two Americans were invited by the Russian Department of Education to teach morals and ethics in their prisons, at their businesses, fire and police departments and even at a large orphanage. They were also told they could teach from the perspective of their faith.

So they went - as witnesses to the light, like John the Baptist "to testify to the light, so that all might believe through him" (John 1:7). They believed that Jesus, the true light that enlightens everyone, was coming into the world (v. 8).

The experience of these two in the Russian orphanage proved to be particularly illuminating. According to one of them, "Will Fish" - the name of a real person, perhaps, or a pseudonym for an anonymous Christian who is willing to "fish for people" (Matthew 4:19) - there were about 100 boys and girls in the orphanage, children who had been abandoned, abused and left in the care of a government-run program. Fish tells the following story of what happened when the holiday season ...
Start your risk free trial to view the entire installment!
START YOUR RISK-FREE TRIAL
---