Proximity Peril 1 Thessalonians 5:1-11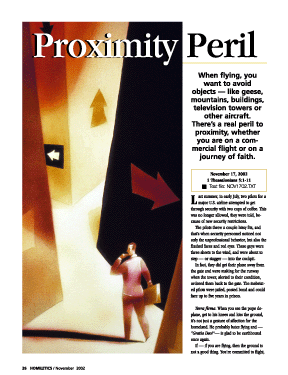 When flying, you want to avoid objects - like geese, mountains, buildings, television towers or other aircraft. There's a real peril to proximity, whether you are on a commercial flight or on a journey of faith.

Last summer, in early July, two pilots for a major U.S. airline attempted to get through security with two cups of coffee. This was no longer allowed, they were told, because of new security restrictions.

The pilots threw a couple hissy fits, and that's when security personnel noticed not only the unprofessional behavior, but also the flushed faces and red eyes. These guys were three sheets to the wind, and were about to step - or stagger - into the cockpit.
In fact, they did get their plane away from the gate and were making for the runway when the tower, alerted to their condition, ordered them back to the gate. The inebriated pilots were jailed, posted bond and could face up to five years in prison.

Terra firma. When you see the pope deplane, get to his knees and kiss the ground, it's not just a gesture of affection for the homeland. He probably hates flying and - "Gratia Deo!"- is glad to be earthbound once again.

If - if you are flying, then the ground is not a good thing. You're...
Start your risk free trial to view the entire installment!
START YOUR RISK-FREE TRIAL
---