Sneaky Sneakers Matthew 21:23-32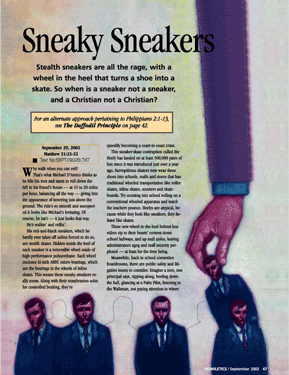 Stealth sneakers are all the rage, with a wheel in the heel that turns a shoe into a skate. So when is a sneaker not a sneaker, and a Christian not a Christian?

For an alternate approach pertaining to Philippians 2:1-13, see The Daffodil Principle.

Why walk when you can roll?

That's what Michael D'Amico thinks as he lifts his toes and starts to roll down the hill to his friend's house - at 15 to 20 miles per hour, balancing all the way - giving him the appearance of hovering just above the ground. The ride's so smooth and unexpected it looks like Michael's levitating. Of course, he isn't - it just looks that way.

He's walkin' and rollin'.

His red-and-black sneakers, which he hardly ever takes off unless forced to do so, are stealth skates. Hidden inside the heel of each sneaker is a removable wheel made of high-performance polyurethane. Each wheel encloses hi-tech ABEC micro-bearings, which are the bearings in the wheels of inline skates. This means these sneaky sneakers really zoom. Along with their nonabrasion soles for controlled braking, they're speedily becoming a coast-to-coast craze.

This sneaker-skate contraption called the Heely has...
Start your risk free trial to view the entire installment!
START YOUR RISK-FREE TRIAL
---