jLife Philippians 1:21-30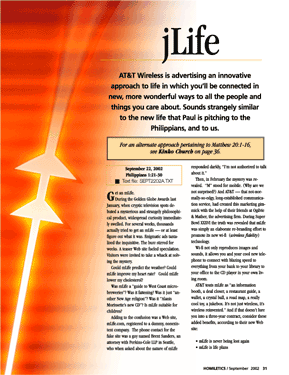 AT&T Wireless is advertising an innovative approach to life in which you'll be connected in new, more wonderful ways to all the people and things you care about. Sounds strangely similar to the new life that Paul is pitching to the
Philippians, and to us.

[For an alternate approach pertaining to Matthew 20:1-16, see Kinko Church.]

Get an mLife.

During the Golden Globe Awards last January, when cryptic television spots debuted a mysterious and strangely philosophical product, widespread curiosity immediately swelled. For several weeks, thousands actually tried to get an mLife - or at least figure out what it was. Enigmatic ads tantalized the inquisitive. The buzz stirred for weeks. A teaser Web site fueled speculation. Visitors were invited to take a whack at solving the mystery.

Could mLife predict the weather? Could mLife improve my heart rate? Could mLife lower my cholesterol?

Was mLife a "guide to West Coast microbreweries"? Was it fattening? Was it just "another New Age religion"? Was it "Alanis Morissette's new CD"? Is mLife suitable for children?

Adding to the confusion was a Web site, mLife.com, registered to a dummy, nonexistent company. The phone contact for the fake site was a guy named Brent Sanders, an attorney with...
Start your risk free trial to view the entire installment!
START YOUR RISK-FREE TRIAL
---