Remembering our Affliction Deuteronomy 26:1-11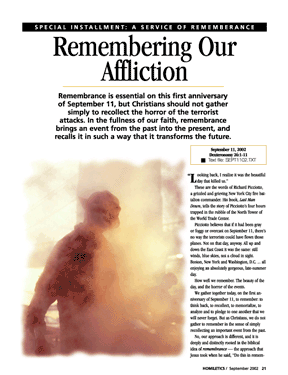 Remembrance is essential on this first anniversary of September 11, but Christians should not gather simply to recollect the horror of the terrorist attacks. In the fullness of our faith, remembrance brings an event from the past into the present, and recalls it in such a way that it transforms the future.

Looking back, I realize it was the beautiful day that killed us."

These are the words of Richard Picciotto, a grizzled and grieving New York City fire battalion commander. His book, Last Man Down, tells the story of Picciotto's four hours trapped in the rubble of the North Tower of the World Trade Center.

Picciotto believes that if it had been gray or foggy or overcast on September 11, there's no way the terrorists could have flown those planes. Not on that day, anyway. All up and down the East Coast it was the same: still winds, blue skies, not a cloud in sight. Boston, New York and Washington, D.C. ... all enjoying an absolutely gorgeous, late-summer day.

How well we remember. The beauty of the day, and the horror of the events.

We gather together today, on the first anniversary of September 11, to remember: to think back, to recollect, to memorialize, to analyze and to pledge to one another that we will never forget. But as Christians, we do not gather to remember in the sense of...
Start your risk free trial to view the entire installment!
START YOUR RISK-FREE TRIAL
---