Curb Your Enthusiasm Matthew 15:(10-20) 21-28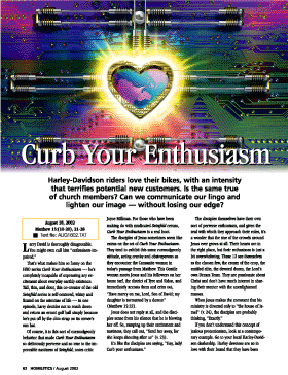 Harley-Davidson riders love their bikes, with an intensity that terrifies potential new customers. Is the same true of church members? Can we communicate our lingo and lighten our image -- without losing our edge?
Larry David is thoroughly disagreeable. You might even call him "enthusiasm-impaired."

That's what makes him so funny on the HBO series Curb Your Enthusiasm -- he's completely incapable of expressing any excitement about everyday earthly existence. Tall, thin, and dour, this co-creator of the old Seinfeld series is self-centered, whiny and fixated on the minutiae of life -- in one episode, Larry decides not to reach down and return an errant golf ball simply because he's put off by the chin strap on its owner's sun hat.

Of course, it is this sort of curmudgeonly behavior that made Curb Your Enthusiasm so deliciously perverse and so true to the impeccable nastiness of Seinfeld, notes critic Joyce Millman. For those who have been making do with syndicated Seinfeld reruns, Curb Your Enthusiasm is a real hoot.

The disciples of Jesus sometimes seem like extras on the set of Curb Your Enthusiasm. They tend to exhibit this same curmudgeonly attitude, acting cranky and obstreperous as they...
Start your risk free trial to view the entire installment!
START YOUR RISK-FREE TRIAL
---