Jacob and the Jedi Psalm 46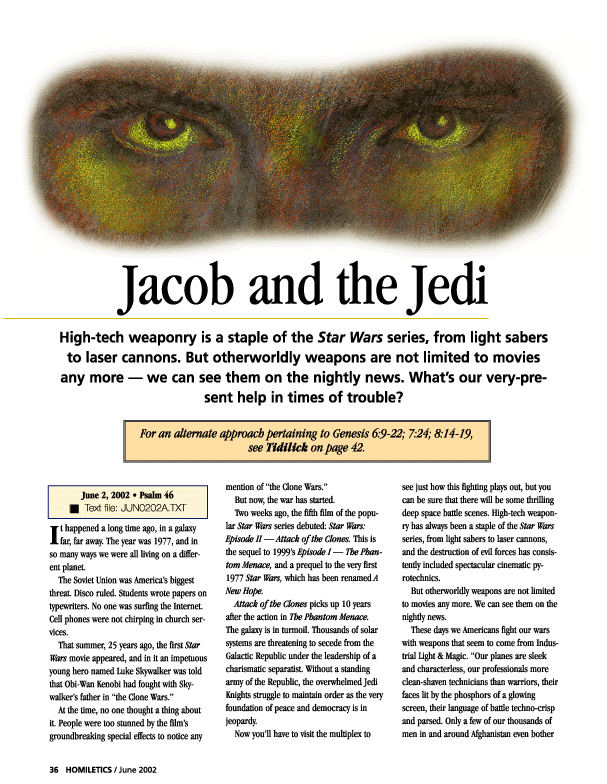 High-tech weaponry is a staple of the Star Wars series, from light sabers to laser cannons. But otherworldly weapons are not limited to movies any more - we can see them on the nightly news. What's our very-present help in times of trouble?
It happened a long time ago, in a galaxy far, far away. The year was 1977, and in so many ways we were all living on a different planet.

The Soviet Union was America's biggest threat. Disco ruled. Students wrote papers on typewriters. No one was surfing the Internet. Cell phones were not chirping in church services.

That summer, 25 years ago, the first Star Wars movie appeared, and in it an impetuous young hero named Luke Skywalker was told that Obi-Wan Kenobi had fought with Skywalker's father in "the Clone Wars."

At the time, no one thought a thing about it. People were too stunned by the film's groundbreaking special effects to notice any mention of "the Clone Wars."
But now, the war has started.

Two weeks ago, the fifth film of the popular Star Wars series debuted: Star Wars: Episode II - Attack of the Clones. This is the sequel to 1999's Episode I - The Phantom Menace, and a prequel to the very first 1977 Star Wars, which has been renamed A New Hope.

Attack of the Clones picks up 10...
Start your risk free trial to view the entire installment!
START YOUR RISK-FREE TRIAL
---