Banned in Georgia Romans 6:12-23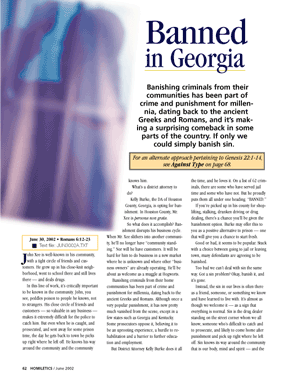 Banishing criminals from their communities has been part of crime and punishment for millennia, dating back to the ancient Greeks and Romans, and it's making a surprising comeback in some parts of the country. If only we could simply banish sin.


John Xee is well-known in his community, with a tight circle of friends and customers. He grew up in his close-knit neighborhood, went to school there and still lives there - and deals drugs.

In this line of work, it's critically important to be known in the community. John, you see, peddles poison to people he knows, not to strangers. His close circle of friends and customers - so valuable in any business - makes it extremely difficult for the police to catch him. But even when he is caught, and prosecuted, and sent away for some prison time, the day he gets back to town he picks up right where he left off. He knows his way around the community and the community knows him.

What's a district attorney to do?

Kelly Burke, the DA of Houston County, Georgia, is opting for banishment. In Houston County, Mr. Xee is persona non grata.

So what does it accomplish? Banishment disrupts his business cycle. When Mr. Xee slithers into another community, he'll no longer have "community standing." Nor...
Start your risk free trial to view the entire installment!
START YOUR RISK-FREE TRIAL
---