Bleed Time John 3:1-17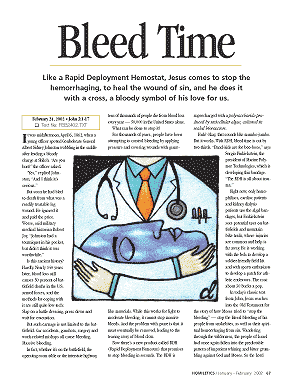 Like a Rapid Deployment Hemostat, Jesus comes to stop the hemorrhaging, to heal the wound of sin, and he does it with a cross, a bloody symbol of his love for us.

It was midafternoon, April 6, 1862, when a young officer spotted Confederate General Albert Sidney Johnston wobbling in the saddle after leading a bloody charge at Shiloh. "Are you hurt?" the officer asked.

"Yes," replied Johnston. "And I think it's serious."

But soon he had bled to death from what was a readily treatable leg wound. He ignored it and paid the price. Worse, said military medical historian Robert Joy, "Johnston had a tourniquet in his pocket, but didn't think it was worthwhile."

Is this ancient history? Hardly. Nearly 140 years later, blood loss still causes 50 percent of battlefield deaths in the U.S. armed forces, and the methods for coping with it are still quite low-tech: Slap on a battle dressing, press down and wait for evacuation.

But such carnage is not limited to the battlefield. Car accidents, gunshots, surgery and work-related mishaps all cause bleeding. Massive bleeding.

In fact, whether it's on the battlefield, the operating room table or the interstate...
Start your risk free trial to view the entire installment!
START YOUR RISK-FREE TRIAL
---