Water Worries Luke 16:19-31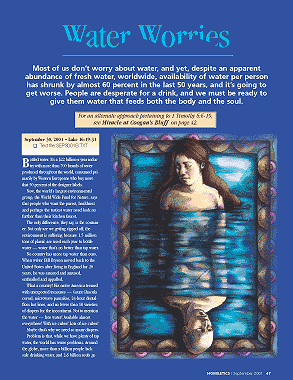 Most of us don't worry about water, and yet, despite an apparent abundance of fresh water, worldwide, availability of water per person has shrunk by almost 60 percent in the last 50 years, and it's going to get worse. People are desperate for a drink, and we must be ready to give them water that feeds both the body and the soul.

Bottled water. It's a $22 billion-a-year industry with more than 700 brands of water produced throughout the world, consumed primarily by Western Europeans who buy more that 50 percent of the designer labels.
Now, the world's largest environmental group, the World Wide Fund for Nature, says that people who want the purest, healthiest and perhaps the tastiest water need look no further than their kitchen faucet.
The only difference, they say, is the container. Not only are we getting ripped off, the environment is suffering because 1.5 million tons of plastic are used each year to bottle water - water that's no better than tap water.
No country has more tap water than ours. When writer Bill Bryson moved back to the United States after living in England for 20 years, he was amazed and amused, enthralled and appalled.
What a country! His native America teemed with unexpected treasures - Count Chocula cereal, microwave pancakes, 24-hour dental-floss hot lines, and no fewer than 18 varieties...
Start your risk free trial to view the entire installment!
START YOUR RISK-FREE TRIAL
---