Trying Childhood Luke 14:25-33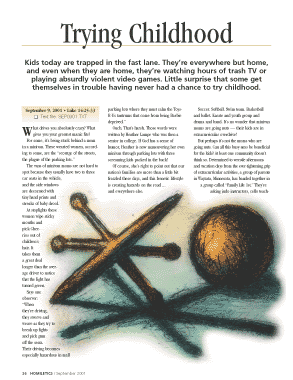 Kids today are trapped in the fast lane. They're everywhere but home, and even when they are home, they're watching hours of trash TV or playing absurdly violent video games. Little surprise that some get themselves in trouble having never had a chance to try childhood.

What drives you absolutely crazy? What gives you your greatest manic fits?
For some, it's being stuck behind a mom in a minivan. These wearied women, according to some, are the "scourge of the streets, the plague of the parking lots."
The vans of minivan moms are not hard to spot because they usually have two to three car seats in the vehicle, and the side windows are decorated with tiny hand prints and streaks of baby drool.
At stoplights these women wipe sticky mouths and pick Cheerios out of children's hair. It takes them a great deal longer than the average driver to notice that the light has turned green.
Says one observer: "When they're driving, they swerve and weave as they try to break up fights and pick gum off the seats. Their driving becomes especially hazardous in mall parking lots where they must calm the Toys-R-Us tantrums that come from being Barbie deprived."
Ouch. That's harsh. Those words were written by Heather Lampe who was then a senior in college. If God has a sense...
Start your risk free trial to view the entire installment!
START YOUR RISK-FREE TRIAL
---