The Noble Prize 2 Timothy 4:6-8, 16-18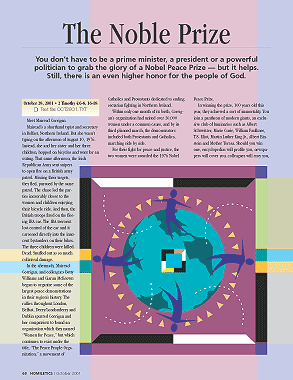 You don't have to be a prime minister, a president or a powerful politician to grab the glory of a Nobel Peace Prize - but it helps. Still, there is an even higher honor for the people of God.

Meet Mairead Corrigan.
Mairead's a shorthand typist and secretary in Belfast, Northern Ireland. But she wasn't typing on the afternoon of August 10, 1976. Instead, she and her sister and her three children, hopped on bicycles and went for an outing. That same afternoon, the Irish Republican Army sent snipers to open fire on a British army patrol. Missing their targets, they fled, pursued by the same patrol. The chase led the parties inexorably closer to the women and children enjoying their bicycle ride. And then, the British troops fired on the fleeing IRA car. The IRA terrorist lost control of the car and it careened directly into the innocent bystanders on their bikes. The three children were killed. Dead. Snuffed out as so much collateral damage.
In the aftermath, Mairead Corrigan, and colleagues Betty Williams and Ciaran McKeown began to organize some of the largest peace demonstrations in their region's history. The rallies throughout London, Belfast, Derry/Londonderry and Dublin ...
Start your risk free trial to view the entire installment!
START YOUR RISK-FREE TRIAL
---