Podunk Power Jeremiah 29:1, 4-7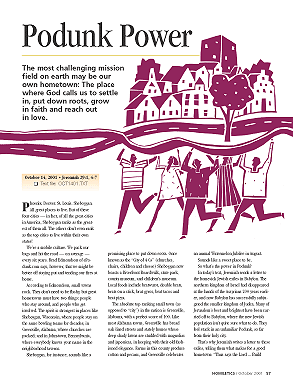 The most challenging mission field on earth may be our own hometown: The place where God calls us to settle in, put down roots, grow in faith and reach out
in love.
Phoenix. Denver. St. Louis. Sheboygan.
All great places to live. But of these four cities - in fact, of all the great cities in America, Sheboygan ranks as the greatest of them all. The others don't even rank as the top cities to live within their own states!
We're a mobile culture. We pack our bags and hit the road - on average - every six years. Brad Edmondson of ePodunk.com says, however, that we might be better off staying put and tending our fires at home.
According to Edmondson, small towns rock. They don't need to be flashy, but great hometowns must have two things: people who stay around, and people who get involved. The spirit is strongest in places like Sheboygan, Wisconsin, where people stay on the same bowling teams for decades; in Greenville, Alabama, where churches are packed; and in Johnstown, Pennsylvania, where everybody knows your name in the neighborhood taverns.
Sheboygan, for instance, sounds like a promising place to put down roots. Once known as the "City of 4 Cs"...
Start your risk free trial to view the entire installment!
START YOUR RISK-FREE TRIAL
---