Fugitive Fools Psalm 51:1-17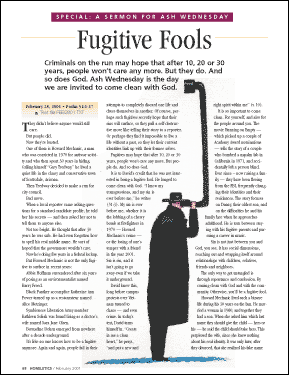 Criminals on the run may hope that after 10, 20 or 30 years, people won't care any more. But they do. And so does God. Ash Wednesday is the day we are invited to come clean with God.

They didn't believe anyone would still care.

But people did.

Now they're busted.

One of them is Howard Mechanic, a man who was convicted in 1970 for antiwar activity and who then spent 30 years in hiding. Calling himself "Gary Tredway," he lived a quiet life in the classy and conservative town of Scottsdale, Arizona.

Then Tredway decided to make a run for city council.

Bad move.

When a local reporter came asking questions for a standard candidate profile, he told her his secrets - and then asked her not to tell them to anyone else.

Not too bright. He thought that after 30 years he was safe. He had even forgotten how to spell his real middle name. He sort of hoped that the government wouldn't care.

Now he's doing five years in a federal lockup.

But Howard Mechanic is not the only fugitive to surface in recent years:

Abbie Hoffman surrendered after six years of posing as an environmentalist named Barry Freed.

Black Panther accomplice Katherine Ann Power turned up as a restaurateur named...
Start your risk free trial to view the entire installment!
START YOUR RISK-FREE TRIAL
---