The Disappearing Sample Lady Romans 10:8b-13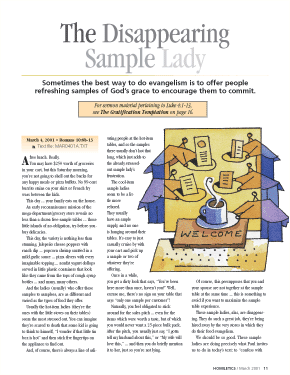 Sometimes the best way to do evangelism is to offer people refreshing samples of God's grace to encourage them to commit.
A free lunch. Really. You may have $250 worth of groceries in your cart, but this Saturday morning, you're not going to shell out the bucks for any happy meals or pizza buffets. No 99-cent burrito stains on your shirt or French fry wars between the kids.

This day ... your family eats on the house.

An early reconnaissance mission of the mega-department/grocery store reveals no less than a dozen free-sample tables ... those little islands of no-obligation, try-before-you-buy delicacies.

This day, the variety is nothing less than stunning. Jalepe-o cheese poppers with ranch dip ... popcorn shrimp sautéed in a mild garlic sauce ... pizza slivers with every imaginable topping ... nonfat yogurt dollops served in little plastic containers that look like they came from the tops of cough syrup bottles ... and many, many others.

And the ladies (usually) who offer these samples to samplees, are as different and varied as the types of food they offer.

Usually the hot-item ladies (they're the ones...
Start your risk free trial to view the entire installment!
START YOUR RISK-FREE TRIAL
---