Out of the Zoo and Into the Wild 1 Corinthians 12:1-11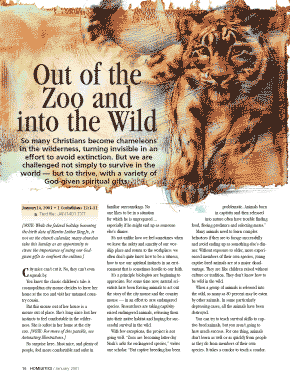 So many Christians become chameleons in the wilderness, turning invisible in an effort to avoid extinction. But we are challenged not simply to survive in the world - but to thrive, with a variety of God-given spiritual gifts.
[NOTE: While the federal holiday honoring the birth date of Martin Luther King Jr., is not on the church calendar, many churches take this Sunday as an opportunity to stress the importance of using our God-given gifts to confront the culture.]

City mice can't cut it. No, they can't even squeak by.

You know the classic children's tale: A cosmopolitan city mouse decides to leave her home at the zoo and visit her untamed country cousin.

But this mouse out of her house is a mouse out of place. She's long since lost her instincts to feel comfortable in the wilderness. She is safest in her home at the city zoo. [NOTE: For more of this parable, see Animating Illustrations.]

No surprise here. Most mice, and plenty of people, feel more comfortable and safer in familiar surroundings. No one likes to be in a situation for which he is unprepared ... especially if he might end up as someone else's dinner.

It's not unlike how we feel sometimes when we leave the safety and sanctity of our worship place...
Start your risk free trial to view the entire installment!
START YOUR RISK-FREE TRIAL
---