Your 60-Second Life Acts 9:36-43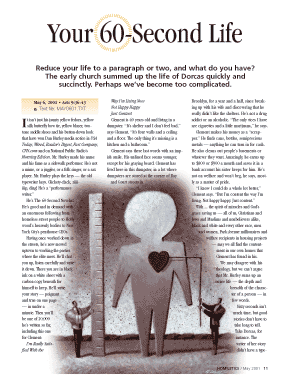 Reduce your life to a paragraph or two, and what do you have? The early church summed up the life of Dorcas quickly and succinctly. Perhaps we've become too complicated.
It isn't just his jaunty yellow fedora, yellow silk butterfly bow tie, yellow blazer, two-tone saddle shoes and his button-down look that have won Dan Hurley media notice in USA Today, Wired, Reader's Digest, Fast Company, CNN.com and on National Public Radio's Morning Edition. Mr. Hurley made his name and his fame as a sidewalk performer. He's not a mime, or a juggler, or a folk singer, or a sax player. Mr. Hurley plays the keys — the old typewriter keys. Clickety-clack, ziiiiiiip, ding! He's a "performance writer."


He's The 60-Second Novelist. He's good and in demand with an enormous following from homeless street people to Hollywood's heavenly bodies to New York City's penthouse CEOs.


Having once worked down in the streets, he's now moved uptown to working the parties where the elite meet. He'll chat you up, listen carefully and write it down. There you are in black ink on a white sheet with a carbon copy beneath for himself to keep. He'll write your story — poignant and ...
Start your risk free trial to view the entire installment!
START YOUR RISK-FREE TRIAL
---