Was Jesus the First Buster? Matthew 21:23-32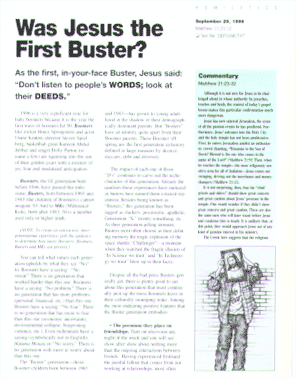 As the first, in-your-face Buster, Jesus said: "Don't listen to people's WORDS; look at their DEEDS."

1996 is a very significant year for baby boomers because it is the year the first wave of boomers hit 50. Boomers like rocker Bruce Springsteen and actor Diane Keaton, director Steven Spielberg, basketball great Kareem Abdul-Jabbar and singer Dolly Parton (to name a few) are squinting into the sun of their golden years with a mixture of joy, fear and modulated anticipation.

Boosters, the GI generation born before 1946, have passed this milestone. Busters, born between 1965 and 1983 (the children of Boomers), cannot imagine 50. And to MKs (Millennial Kids), born after 1983, 50 is a number used only in higher math.

[NOTE: To create an interactive, inter-generational experience, poll the audience to determine how many Boosters, Boomers, Busters and MKs are present.]

You can tell what values each generation upholds by what they say "No" to. Boosters have a saying: "No sweat." There is no generation that worked harder than this one. Boomers have a saying: "No problem." There is no...
Start your risk free trial to view the entire installment!
START YOUR RISK-FREE TRIAL
---