10 Things to Tell Your Kids About Bill Clinton (and the White House Mess) 1 Timothy 1:12-17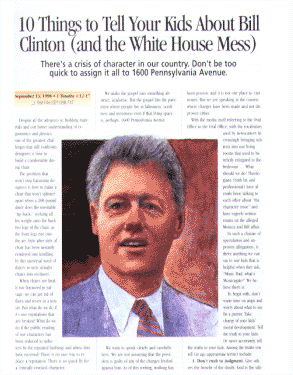 There's a crisis of character in our country. Don't be too quick to assign it all to 1600 Pennsylvania Avenue.
Despite all the advances in building materials and our better understanding of ergonomics and physics, one of the greatest challenges that still confronts designers is how to build a comfortable dining chair.

The problem that won't stop harassing designers is how to make a chair that won't splinter apart when a 200-pound diner does the inevitable "tip-back," rocking all his weight onto the back two legs of the chair, as the front legs rise into the air. Style after style of chair has been instantly rendered into kindling by this universal need of diners to turn straight chairs into recliners.

When chairs are finally too fractured to salvage, we can get rid of them and invest in a new set. But what do we do if it's our reputations that are broken? What do we do if the public reading of our characters has been reduced to splinters by the repeated bashings and abuse they have received? There is no easy way to replace a reputation. There is no quick fix for a critically cracked...
Start your risk free trial to view the entire installment!
START YOUR RISK-FREE TRIAL
---