Saving Colonel Kappler Matthew 18:21-35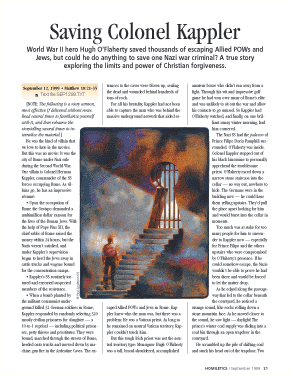 World War II hero Hugh O'Flaherty saved thousands of escaping Allied POWs and Jews, but could he do anything to save one Nazi war criminal? A true story exploring the limits and power of Christian forgiveness.
[NOTE: The following is a story sermon, most effective if delivered without notes. Read several times to familiarize yourself with it, and then rehearse the storytelling several times to internalize the material.]

He was the kind of villain that we love to hate in the movies. But this was no movie: It was the city of Rome under Nazi rule during the Second World War. Our villain is Colonel Herman Kappler, commander of the SS forces occupying Rome. As villains go, he has an impressive résumé:

* Upon the occupation of Rome the Gestapo demanded a multimillion dollar ransom for the lives of the Roman Jews. With the help of Pope Pius XII, the chief rabbi of Rome raised the money within 24 hours, but the Nazis weren't satisfied, and under Kappler's supervision began to herd the Jews away in cattle trucks and wagons bound for the concentration camps.

* Kappler's SS routinely tortured and executed suspected members of the resistance.

* When a bomb planted by the militant communist...
Start your risk free trial to view the entire installment!
START YOUR RISK-FREE TRIAL
---