FriendShifts James 2:1-10, 11-13, 14-17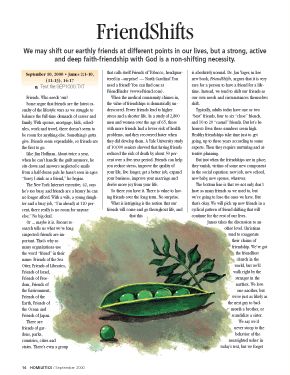 We may shift our earthly friends at different points in our lives, but a strong, active and deep faith-friendship with God is a non-shifting necessity.


Friends. Who needs 'em?

Some argue that friends are the latest casualty of the lifestyle wars as we struggle to balance the full-time demands of career and family. With spouse, mortgage, kids, schedules, work and travel, there doesn't seem to be room for anything else. Something's gotta give. Friends seem expendable, so friends are the first to go.

Like Jim Hoffman. About twice a year, when he can't handle the guilt anymore, he sits down and answers neglected e-mails from a half-dozen pals he hasn't seen in ages: "Sorry I stink as a friend," he begins.

The New York Internet executive, 42, says he's too busy, and friends are a luxury he can no longer afford. With a wife, a young daughter and a busy job, "I'm already at 120 percent, there really is no room for anyone else." No big deal.

Or ... maybe it is. Recent research tells us what we've long suspected: friends are important. That's why so many organizations use the word "friend" in their name: Friends of the Sea Otter,...
Start your risk free trial to view the entire installment!
START YOUR RISK-FREE TRIAL
---