Don't Just Sit There! Matthew 23:1-12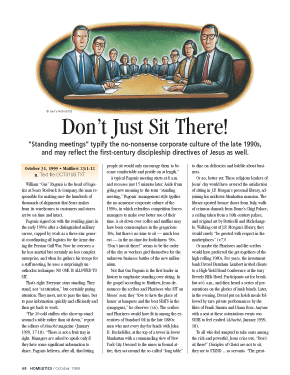 "Standing meetings" typify the no-nonsense corporate culture of the late 1990s, and may reflect the first-century discipleship directives of Jesus as well.


William "Gus" Pagonis is the head of logistics at Sears Roebuck & Company, the man responsible for making sure the hundreds of thousands of shipments that Sears makes from its warehouses to customers and stores arrive on time and intact.

Pagonis signed on with the retailing giant in the early 1990s after a distinguished military career, capped by work as a three-star general coordinating all logistics for the Army during the Persian Gulf War. Now he oversees a far less martial but certainly no less complex enterprise, and when he gathers his troops for a staff meeting, he uses a surprisingly unorthodox technique: NO ONE IS ALLOWED TO SIT.

That's right: Everyone stays standing. They stand, not "at attention," but certainly paying attention. They meet, not to pass the time, but to pass information quickly and efficiently and then get back to work.

"The 20-odd staffers who show up stand around a table rather than sit down," report the editors of Attache magazine (January 1999,...
Start your risk free trial to view the entire installment!
START YOUR RISK-FREE TRIAL
---