A God Geek Mark 10:35-45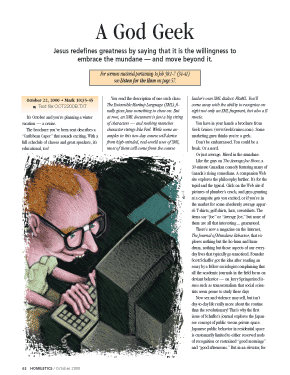 Jesus redefines greatness by saying that it is the willingness to embrace the mundane - and move beyond it.
It's October and you're planning a winter vacation - a cruise.

The brochure you've been sent describes a "Caribbean Caper" that sounds exciting. With a full schedule of classes and great speakers, it's educational, too!

You read the description of one such class: The Extensible Markup Language (XML) finally gives Java something to chew on. But at root, an XML document is just a big string of characters - and nothing munches character strings like Perl. While some examples in this two-day course will derive from high-minded, real-world uses of XML, most of them will come from the course leader's own XML dialect: FlixML. You'll come away with the ability to recognize on sight not only an XML fragment, but also a B movie.

You have in your hands a brochure from Geek Cruises (www.GeekCruises.com). Some marketing guru thinks you're a geek.

Don't be embarrassed. You could be a freak. Or a nerd.

Or just average. Mired in the mundane.

Like the guys on The Average Joe Show, a 30-minute ...
Start your risk free trial to view the entire installment!
START YOUR RISK-FREE TRIAL
---