Tax Reform - A.D. 30 Luke 19:1-10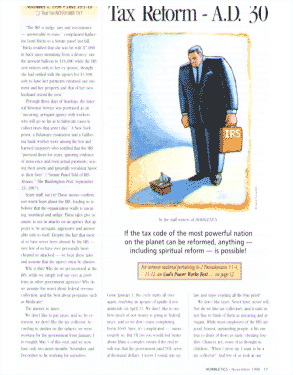 If the tax code of the most powerful nation on the planet can be reformed, anything - including spiritual reform - is possible!
"The IRS is judge, jury and executioner - answerable to none," complained Katherine Lund Hicks to a Senate panel last fall. "Hicks testified that she was hit with $7,000 in back taxes stemming from a divorce, saw the amount balloon to $16,000 while the IRS sent notices only to her ex-spouse, thought she had settled with the agency for $3,500, only to have her payments returned one moment and her property and that of her new husband seized the next."

Through three days of hearings, the Internal Revenue Service was portrayed as an "uncaring, arrogant agency with workers who will go so far as to fabricate cases to collect taxes that aren't due." A New York priest, a Delaware contractor and a California bank worker were among the hot and harried taxpayers who testified that the IRS "pursued them for years, ignoring evidence of innocence and even actual payments, seizing their assets and generally wreaking havoc in their lives" ("Senate Panel Told of IRS Abuses," The Washington Post,...
Start your risk free trial to view the entire installment!
START YOUR RISK-FREE TRIAL
---