TGIM Genesis 1:1-2:4a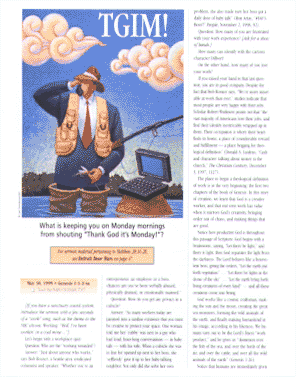 What is keeping you on Monday mornings from shouting "Thank God it's Monday!"?


[If you have a sanctuary sound system, introduce the sermon with a few seconds of a "work" song, such as the theme to the NBC sitcom, Working: "Well, I've been workin' in a coal mine ..."]

Let's begin with a workplace quiz:

Question: Who are the "working wounded"?

Answer: "Just about anyone who works," says Bob Rosner, a Seattle-area syndicated columnist and speaker. "Whether you're an entrepreneur, an employee or a boss, chances are you've been verbally abused, physically drained, or emotionally maimed."

Question: How do you get any privacy in a cubicle?

Answer: "So many workers today are jammed into a sardine existence that you must be creative to protect your space. One woman told me her 'cubby' was next to a guy who had loud, hour-long conversations - in baby talk - with his wife. When a cubicle she was in line for opened up next to her boss, she 'selflessly' gave it up to her baby-talking neighbor. Not only did she solve her own problem, she also made sure her boss got a...
Start your risk free trial to view the entire installment!
START YOUR RISK-FREE TRIAL
---