The Gospel Truth Revelation 21:1-6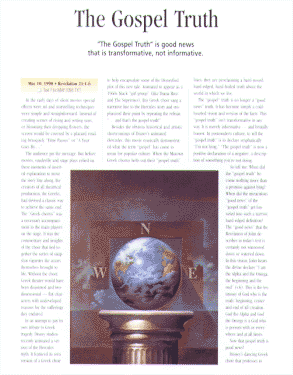 "The Gospel Truth" is good news
that is transformative, not informative.


In the early days of silent movies special effects were nil and storytelling techniques were simple and straightforward. Instead of creating scenes of rising and setting suns, or blooming then dropping flowers, the screen would be covered by a placard reading brusquely "Time Passes" or "A Year Goes By...."

The audience got the message. But before movies, vaudeville and stage plays relied on these moments of inserted explanation to move the story line along, the creators of all theatrical production, the Greeks, had devised a classic way to achieve the same end. The "Greek chorus" was a necessary accompaniment to the main players on the stage. It was the commentary and insights of the choir that tied together the series of snapshot vignettes the actors themselves brought to life. Without the choir, Greek theater would have been disjointed and two-dimensional -- flat characters with undeveloped reasons for the sufferings they endured.

In an attempt to pay its own tribute to Greek...
Start your risk free trial to view the entire installment!
START YOUR RISK-FREE TRIAL
---