Yo Quiero Church! 1 Corinthians 1:18-25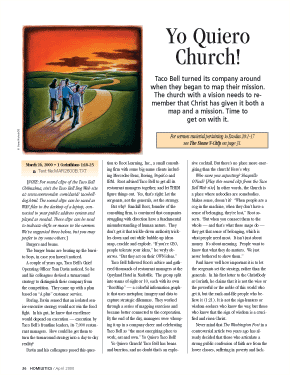 Taco Bell turned its company around when they began to map their mission. The church with a vision needs to remember that Christ has given it both a map and a mission. Time to
get on with it.
[NOTE: For sound clips of the Taco Bell Chihuahua, visit the Taco Bell Dog Web site at: www.everwonder. com/david/ tacobelldog.html. The sound clips can be saved as WAV files to the desktop of a laptop, connected to your public address system and played as needed. These clips can be used to indicate shifts or moves in the sermon. We've suggested three below, but you may prefer to try some others.]

Burgers and beans.

The burger bums are beating up the burrito boys, in case you haven't noticed.

A couple of years ago, Taco Bell's Chief Operating Officer Tom Davin noticed. So he and his colleagues devised a turnaround strategy to distinguish their company from the competition. They came up with a plan based on "A plus" customer service.

Boring. Davin sensed that an isolated senior-executive strategy would not win the food fight. In his gut, he knew that excellence would depend on execution - execution by Taco Bell's frontline leaders, its 7,000 restaurant managers. How could he get ...
Start your risk free trial to view the entire installment!
START YOUR RISK-FREE TRIAL
---