The Stone V-Chip Exodus 20:1-17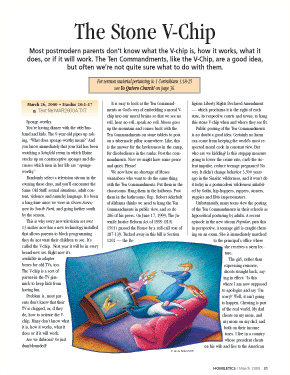 Most postmodern parents don't know what the V-chip is, how it works, what it does, or if it will work. The Ten Commandments, like the V-Chip, are a good idea, but often we're not quite sure what to do with them.

Sponge-worthy.

You're having dinner with the wife/husband and kids. The 9-year-old pipes up asking, "What does sponge-worthy mean?" And you know immediately that your kid has been watching a Seinfeld rerun in which Elaine stocks up on contraceptive sponges and discusses which men in her life are "sponge-worthy."

Randomly select a television sitcom in the evening these days, and you'll encounter the Same Old Stuff: sexual situations, adult content, violence and raunchy language. It's been a long time since we were in Green Acres; now its South Park, and going farther south by the season.

This is why every new television set over 13 inches now has a new technology installed that allows parents to block programming they do not want their children to see. It's called the V-chip. Next year it will be in every brand-new set. Right now it's available in adapter boxes for old TVs, too. The V-chip is a sort of parent-in-the-TV gimmick to keep kids from having fun.

Problem is, most...
Start your risk free trial to view the entire installment!
START YOUR RISK-FREE TRIAL
---