The Goliath Project 1 Samuel 17:(1a, 4-11, 19-23), 32-49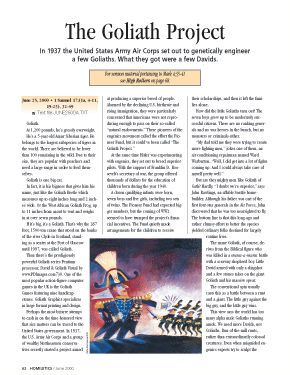 In 1937 the United States Army Air Corps set out to genetically engineer a few Goliaths. What they got were a few Davids.
Goliath.

At 1,200 pounds, he's grossly overweight.

He's a 5-year-old Amur Siberian tiger. He belongs to the largest subspecies of tigers in the world. There are believed to be fewer than 100 remaining in the wild. Due to their size, they are popular with poachers and need a large range in order to feed themselves.

Goliath is one big cat.

In fact, it is his bigness that gives him his name, just like the Goliath Beetle which measures up to eight inches long and 2 inches wide. Or the West African Goliath Frog, up to 11 inches from snout to vent and weighs in at over seven pounds.

If it's big, it's a Goliath. That's why the 287 foot, 1500-ton crane that stood on the banks of the river Clyde in Scotland, standing as a sentry at the Port of Glascow until 1997, was called Goliath.

Then there's the prodigiously powerful Goliath series Pentium processor, David & Goliath Visual by www.PDImages.com730. One of the most popular action-figure computer games in the UK is the Goliath Games...
Start your risk free trial to view the entire installment!
START YOUR RISK-FREE TRIAL
---